It is understood, so to speak, but we will say it one more time because of its importance to everyone's well-being and that of our planet: A sustainable future through positive environmental action is the responsibility of every one of us. And that applies in our personal lives as consumers as well the roles we fulfill as business professionals. The truth is, our actions in the business world as responsible corporate "citizens" often have a much more profound effect on our planet, our quality of life, and that of future generations, than the actions we take in our personal lives.
That far-reaching duty, and its obligations, have been instrumental in guiding our mission at Hi-Cone from the beginning. From the development of ring carriers made of recycled materials to an overarching revitalization of manufacturing and production that aligns with our mission, our focus on creating a principled legacy through sustainable packaging that serves the needs of business and consumers has never been clearer.
One of the most important mechanisms underlying our advancements and actions has been the use of Life Cycle Assessment (LCA) methodology. LCAs set the standard for quantifying environmental impact and can favorably impact businesses, their direct customers, and consumers in many, many ways.
Simply stated, an LCA is the systematic analysis of environmental impact throughout the total lifecycle of a product, its materials, its processes, and almost any activity that can be measured and analyzed. LCA can evaluate the environmental implications of the many interacting systems that make up industrial production and distribution. It provides valuable data that decision-makers can use in support of their sustainability goals and initiatives, when rigorously and accurately accomplished.
The findings of an LCA can be used to guide business organizations of all types to make better informed decisions. The critical data from a report can generate improvements in everything from process and product design to methods for quantifying key environmental impact factors that can include, energy consumption, water use, waste, and greenhouse gases.
To some, it may seem a bit unusual to think about inanimate objects like our ring carriers or how a manufacturing facility uses water to produce them as having a life cycle, but that's exactly what LCA requires us to do. A product's life cycle is not unlike that of a living thing. Every product, even something as simple as a ring carrier, is "born," lives a "life," and, when no longer useful, its life comes to an end.
An LCA can also account for other types of life cycles, like cradle-to-cradle. This describes the concept of a circular economy, where the end of one life cycle leads into a new life cycle through a remanufacturing process. The approach that would become LCA began in the late 1960s and early 1970s, though there was little consistency in how such analysis was practiced. During the 1990s, the international scientific community standardized LCA with its guidelines and operational framework adopted by the International Organization for Standardization (ISO) in 1994.
An LCA is comprised of four phases. First, goal and scope are defined, which is determined by the number of life cycle stages and impact categories that are going to be assessed. This is followed by a life cycle inventory analysis (LCI) which results in an inventory list detailing input/output data for the system that is being evaluated. Next is a life cycle impact assessment (LCIA) where the data collected in the previous phase is given meaning, and actions are suggested. In the final stage, interpretation and review, priorities are assigned in alignment with the LCA's originally established objectives.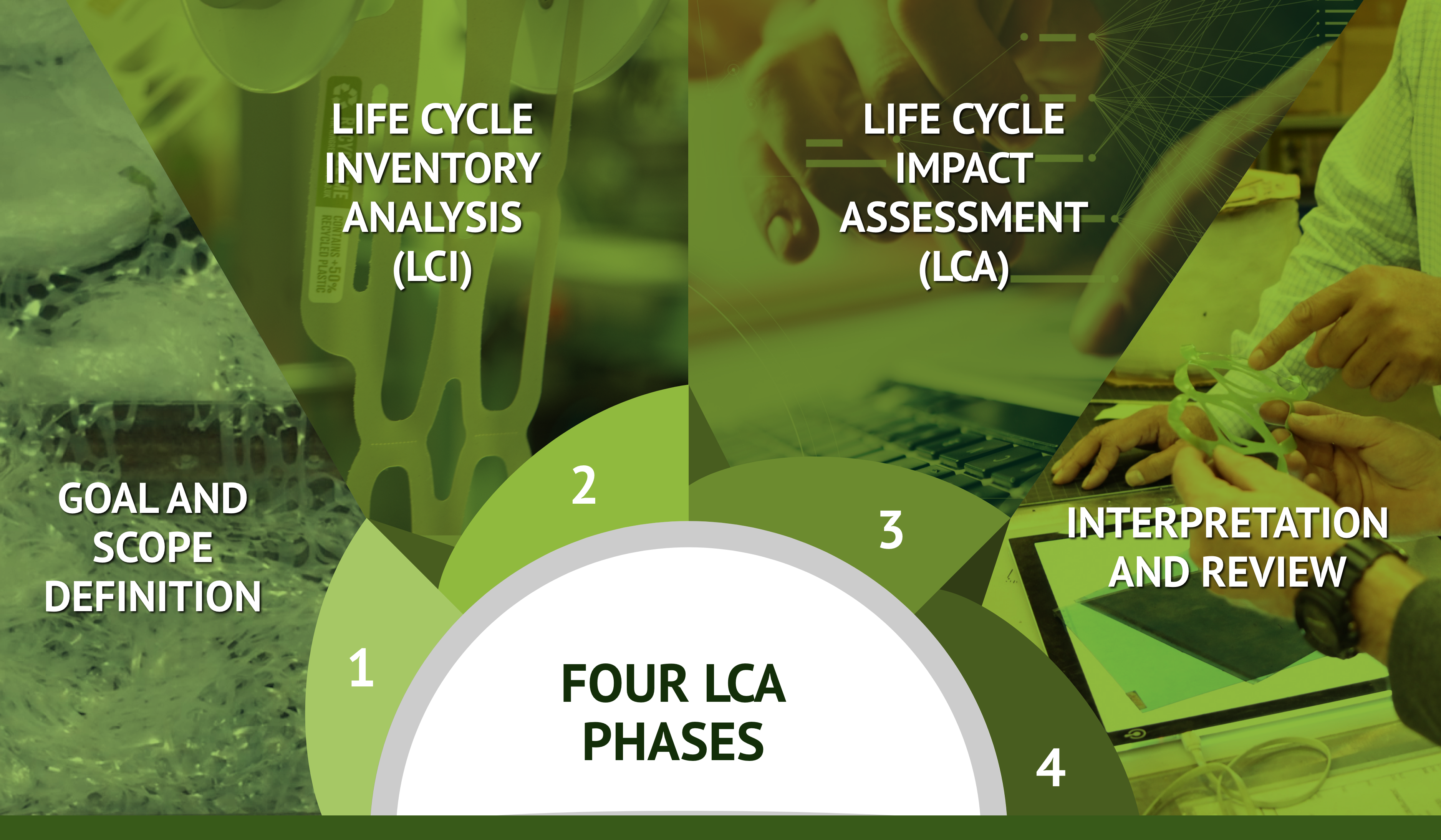 At Hi-Cone, our LCA partner is Franklin Associates. Their expertise and experience in conducting LCAs with us have resulted in a range of insights and actions that underscore our mission of sustainability, and the knowledge that today, our ring carriers have significantly less environmental impact when compared to other carriers' solution competitors.
The results of our LCA work complements our efforts in support of the circular economy and are most dramatically evident in the life cycle of Hi-Cone RingCycles™. Here are some dramatic improvements that directly align with the four parts of our LCA conducted by Franklin Associates*: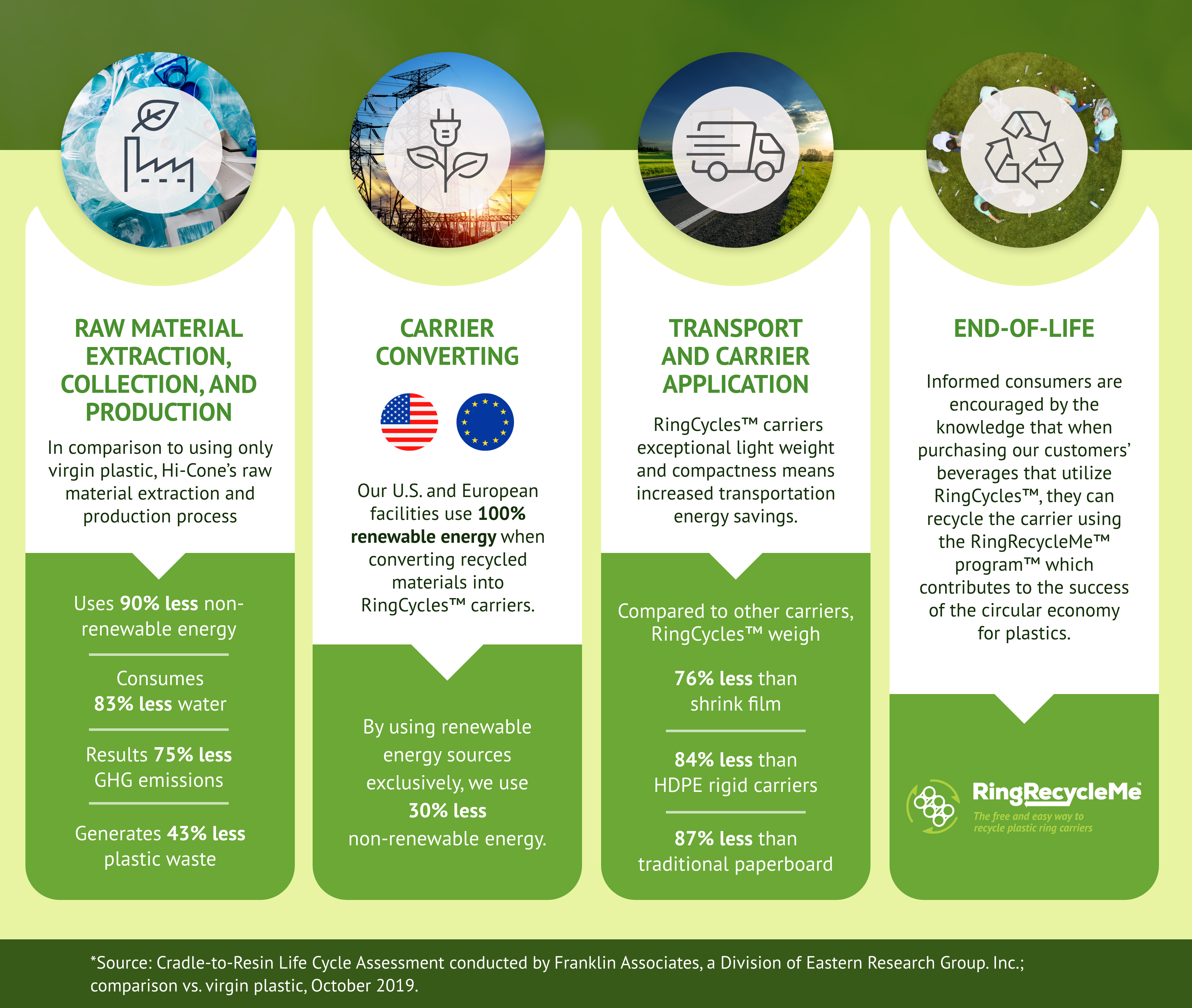 RAW MATERIAL EXTRACTION, COLLECTION, AND PRODUCTION – RingCycles™ carriers are created from virgin low-density polyethylene (LDPE) and 55% is LDPE from post-consumer recycled (PCR) content. In comparison to using virgin plastic, raw material extraction and production processes for recycled LDPE uses 90% less non-renewable energy, consumes 83% less water, results 75% less GHG emissions, and generates 43% less plastic waste. Hi-Cone's commitment to use less virgin material creates a circular economy that is measurably better for the environment.
CARRIER CONVERTING – our U.S. and European facilities use 100% renewable energy when converting recycled materials into RingCycles™ By using renewable energy sources exclusively in our processes, the overall carrier lifecycle uses almost 30% less non-renewable energy.
TRANSPORT AND CARRIER APPLICATION – The RingCycles™ carriers are shipped to our customers' facilities to be applied to beverage containers. When transporting RingCycles™ carriers, their exceptional light weight and compactness means increased transportation energy savings. The number are impressive. Compared to other carriers, RingCycles™ weigh 76% less than shrink film, 84% less than HDPE rigid carriers, and 87% less than traditional paperboard.
END-OF-LIFE – Informed consumers are encouraged by the knowledge that when purchasing our customers' beverages that utilize RingCycles™, they can recycle the carrier using the RingRecycleMe™ program™ which contributes to the success of the circular economy for plastics.
Those are some dramatic results, but they do not happen by themselves. They are the direct result of the deep commitment, daily efforts, and continuous improvement of the people of Hi-Cone and their vision for a better tomorrow.
Now, if you are still reading this post, it is a safe bet that you engage in some way with consumer packaging, especially for beverages, and you share our deep concern and commitment to preserving the environment. And you are interested in the benefits of an LCA and how it can help your company achieve its sustainability goals.
And about sustainability, there are one or two more things to consider when choosing a carrier for your beverage brand. Ones that also meet consumer expectations and influences their preference for brands that make environmental preservation one of their main goals.
Here are some numbers and data we think will help make the decision a lot easier for you. **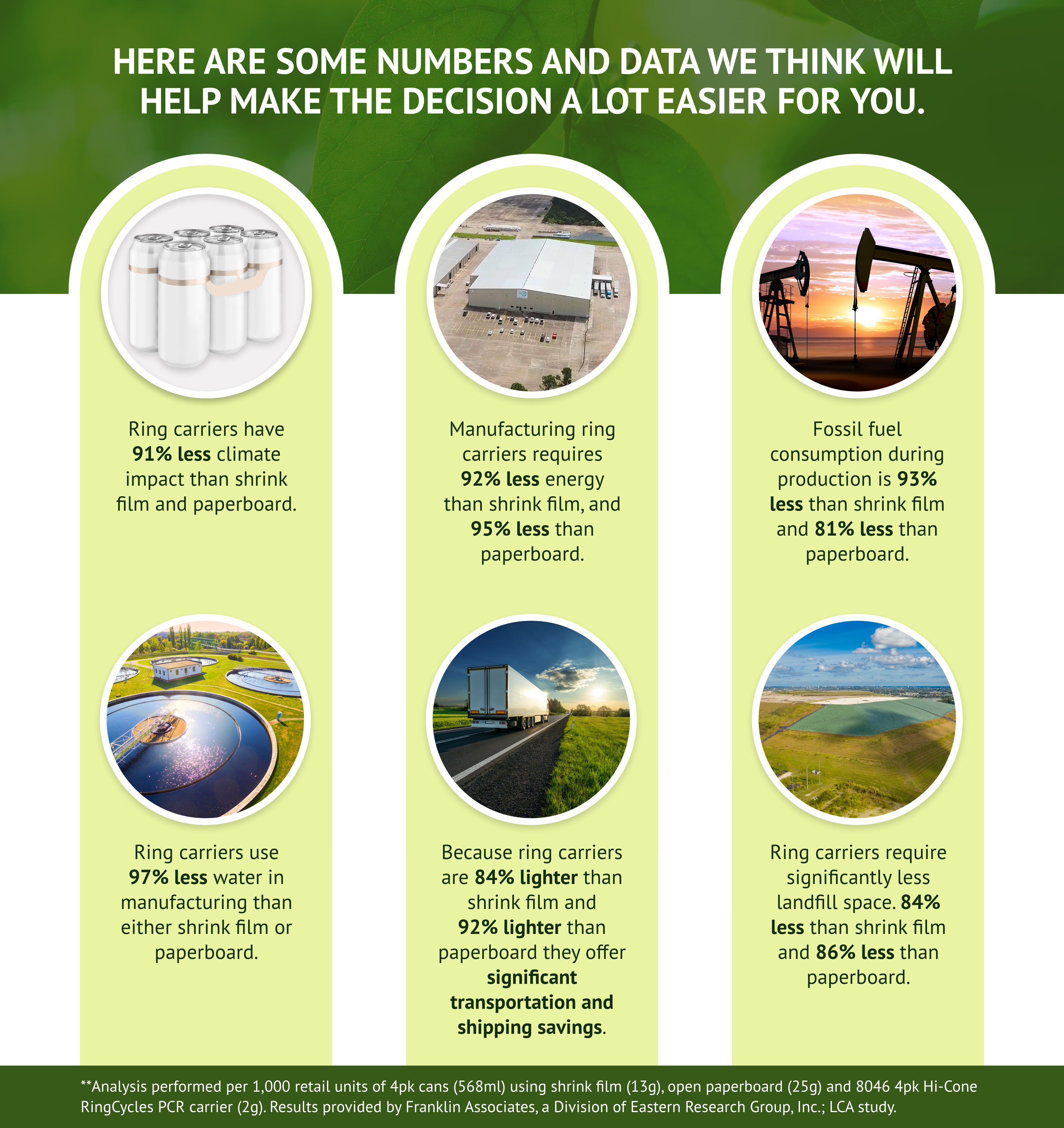 Ring carriers have 91% less climate impact than shrink film and paperboard.
Manufacturing ring carriers requires 92% less energy than shrink film, and 95% less than paperboard.
Fossil fuel consumption during production is 93% less than shrink film and 81% less than paperboard.
Ring carriers use 97% less water in manufacturing than either shrink film or paperboard.
Because ring carriers are 84% lighter than shrink film and 92% lighter than paperboard, they offer significant transportation and shipping savings.
Ring carriers require significantly less landfill space. 84% less than shrink film and 86% less than paperboard.
If you would like to hear more about our journey, learn about our LCA experience, or find out more about how our products and solutions can help you achieve sustainable and bottom-line packaging advantages, let us get a conversation started.
*Source: Cradle-to-Resin Life Cycle Assessment conducted by Franklin Associates, a Division of Eastern Research Group. Inc.; comparison vs. virgin plastic, October 2019.
**Analysis performed per 1,000 retail units of 4pk cans (568ml) using shrink film (13g), open paperboard (25g) and 8046 4pk Hi-Cone RingCycles PCR carrier (2g). Results provided by Franklin Associates, a Division of Eastern Research Group, Inc.; LCA study.